Gateway Skydiving Center is situated in the center of Illinois state – 50 miles from St. Louis. Here's everything you need to know about how to get here, however you choose to do it.
Exact location
Gateway Skydiving Center's exact location address: 1374 Sky Lane, Greenville, IL 62246. In our immediate vicinity is the beautiful Carlyle Lake, everybody who skydives enjoys amazing view.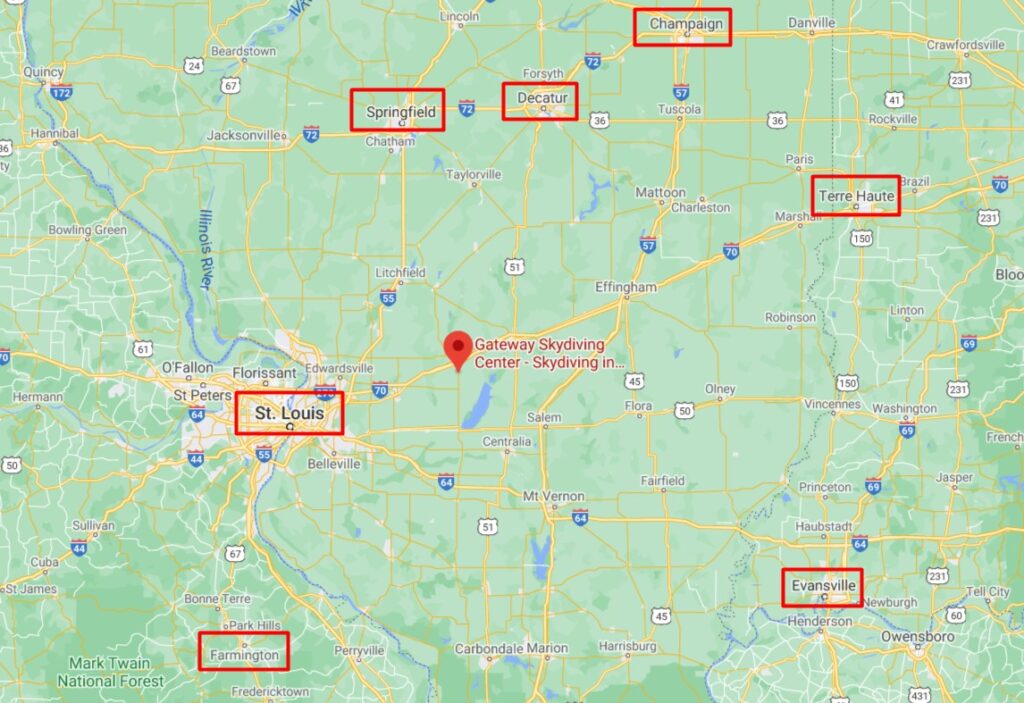 Where do you visit us from?
People visit us from the Illinois state as well as all other nearby states :
Missouri
Iowa
Indiana
Arkansas
Kentucky
Ohio
Wisconsin
Minnesota
Tennessee
Cities from whom people visit us are:
St. Louis
Belleville
Collinsville
Edwardsville
Clayton
.. and many other cities. In the picture bellow you can find travel time from many cities to Gateway Skydiving Center.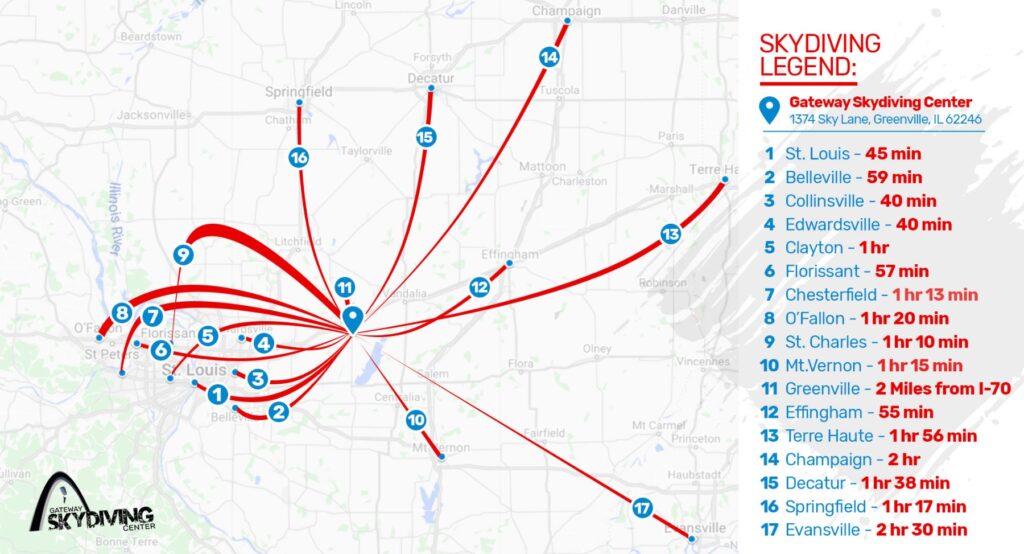 What we offer
The safest and most affordable skydiving center in Illinois and beyond. More than 10.000 jumps with an experienced team, most affordable prices. And the best customer experience of them all – please see over 500 positive google reviews here for our Gateway Skydiving Center. On top of that our runway is the longest runway of any skydiving center in Illinois state and all other near states.
Tandem Jumps
With tandem skydive you will be attached to a professional instructor with years of experience and thousands of jumps under his/her belt. So you can enjoy one of the most memorable moments of your life! Your job is to have fun and scream your lungs out as you are flying through the air at 120 mph. ​During a Tandem Skydive, your instructor does most of the work, making it suitable for most people.
Training
In order to get an "A" License, you must start the Accelerated Free Fall training method, and complete the 25 jumps required. The 25 jumps consist of 7 AFF jumps, 5 Coach jumps, 12 Solo jumps and 1 "A" License Check Dive.
Accelerated Free Fall
The Accelerated Freefall program is made up of seven levels, and taking the Ultimate AFF First Jump Course is the first step in your progression. Ground training typically takes between four to six hours. It includes lessons on the parachuting equipment you'll be using, aircraft procedures, emergency procedures, canopy control and landing techniques. Following the class you will jump from 10,500 ft wearing your own parachute system.
Two instructors will accompany you on your jump, flying by your side to assist you if necessary during nearly one minute of free fall. You deploy your parachute at 5,000 ft and then steer and land your own parachute with radio assistance. Full altitude on every jump is what you get with this training method. Wearing gear provided to you, your instructors help you learn stability by keeping grips on you for your first few jumps.
What scenery you can expect
As earlier mentioned, we are positioned near beautiful Carlyle lake that dominates the landscape view when skydiving.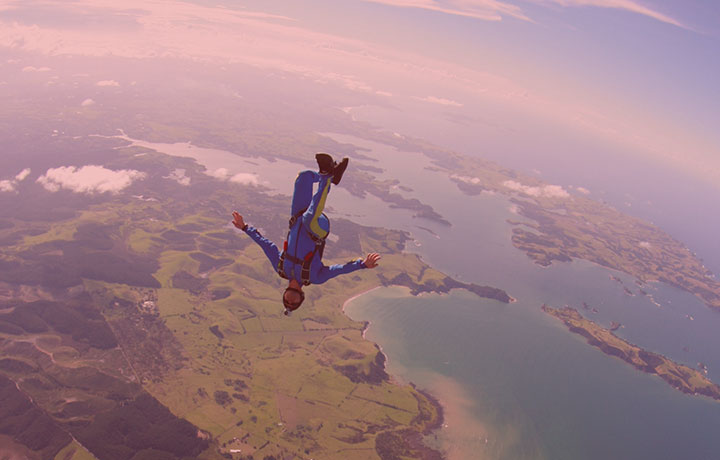 You can reserve your skydive here ,we are waiting for you.