Skydiving history
Skydiving dates back to ancient times. We have information about this from the period of Leonard DaVinci, whose sketches were found about it.
However, Andre-Jacques Garnerin, a Frenchman, was the first man to make a successful parachute jump in 1797 using a canvas canopy and a small basket tied under a hot air balloon.
In 1919, Leslie Irvin was credited with the first free fall jump.
After World War II, skydiving as a sport was gaining in importance and popularity. Today, skydiving is considered one of the most exciting sports in which more and more people want to try. Especially adventurers and people who love adrenaline.
It is worth noting the event dating back to 2012 when Felix Baumgartner successfully jumped 39 kilometres. It is also the highest recorded parachute drop in history.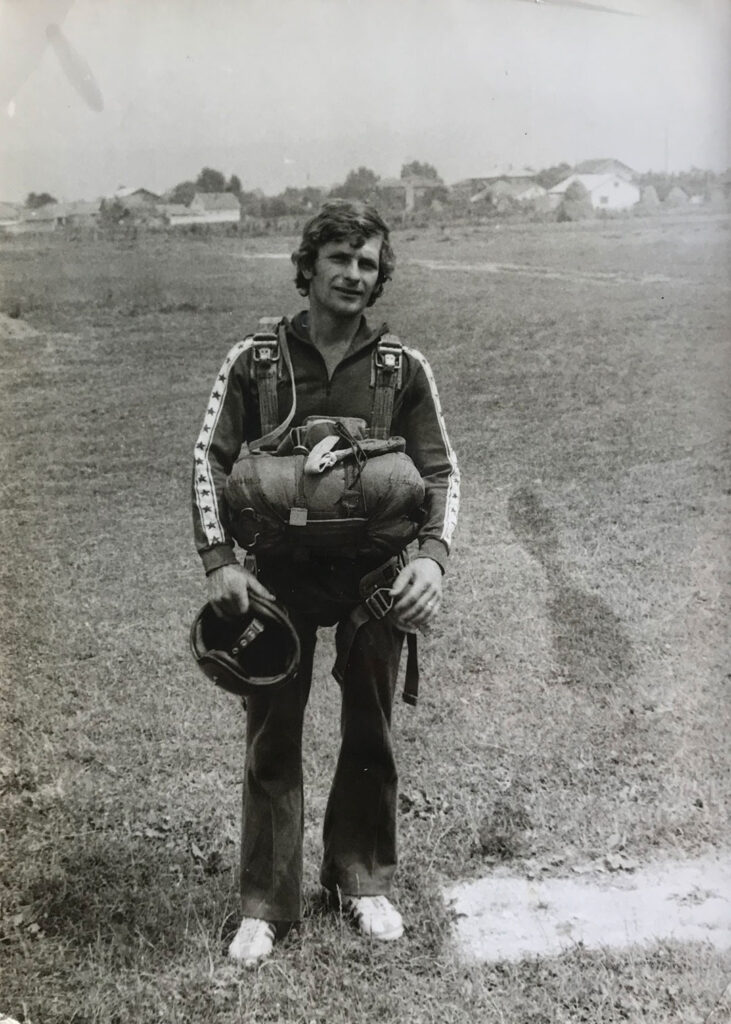 What is skydiving?
The United States Parachuting Association (USPA) defines skydiving-the original "extreme sport"-as follows:
1: The descent of a person to the surface from an aircraft in flight when he or she uses or intends to use a parachute during all or part of that descent.
2: To jump from an aircraft with a parachute.
Skydiving is a jump from a plane with a parachute for fun. Skydiving can act individually or in tandem. Dealing with these sports demands training. Those with no experience have to jump in the presence of instructors and fielders. This is jointly one of the most exciting sports in existence.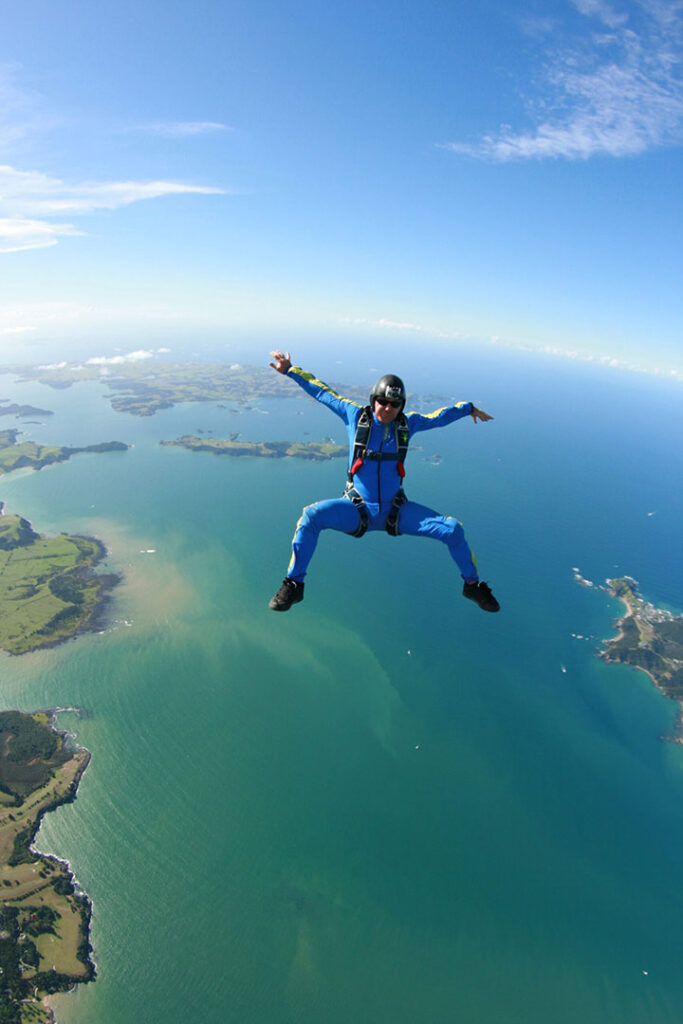 A new season is about to begin! Don't miss the super discount coupon and save $ 40.
Types of Jumps
As mentioned before, we have different types of jumps. Individual and tandem jumps.
With tandem skydive you will be attached to a professional instructor with years of experience and thousands of jumps under his / her belt, so you can enjoy one of the most memorable moments of your life! Your job is to have fun and scream your lungs out as you are flying through the air at 120 mph. During a Tandem Skydive, your instructor does the most of the work, making it suitable for most people.
The Accelerated Freefall program is made up of seven levels, and taking the Ultimate AFF First Jump Course is the first step in your progression. Ground training typically takes between four to six hours. It includes lessons on the parachuting equipment you'll be using, aircraft procedures, emergency procedures, canopy control and landing techniques. Following the class, you will jump from 10,500 ft wearing your own parachute system.
Two instructors will accompany you on your jump, flying by your side to assist you if necessary during nearly one minute of free fall. You deploy your parachute at 5,000 ft and then steer and land your own parachute with radio assistance. Full altitude on every jump is what you get with this training method. Wearing gear provided to you, your instructors help you learn stability by keeping grips on you for your first few jumps.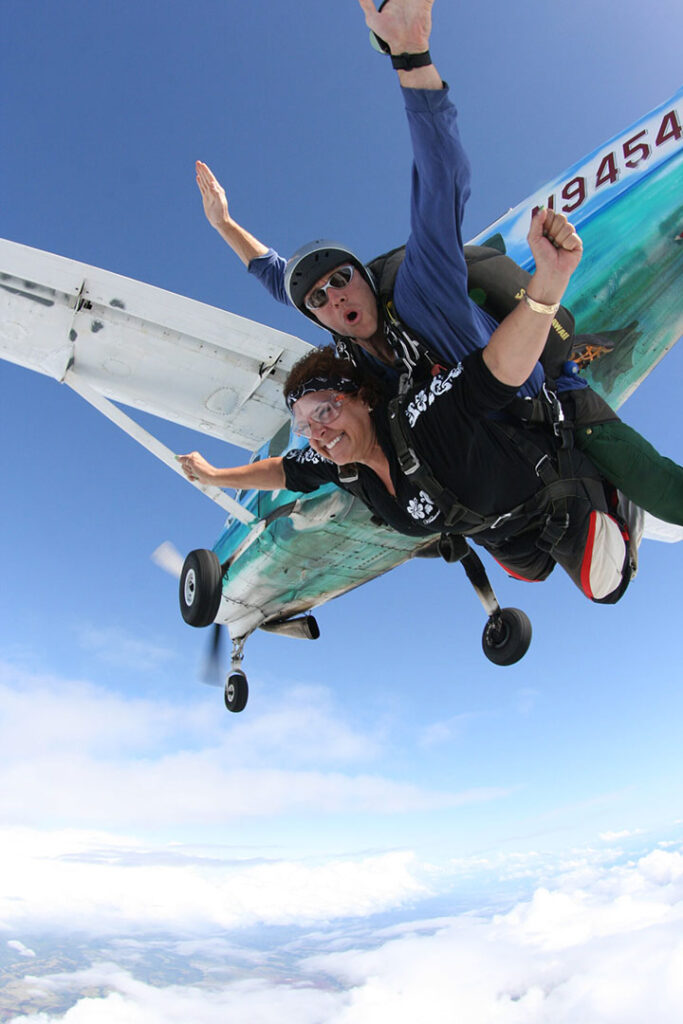 The Prevalence of Skydiving In The World
As mentioned earlier, skydiving has become very popular from the mid-20th century onwards.
Today, skydiving is represented on all continents in almost every country. Its popularity is growing, especially in the USA, Australia, Europe, etc.
According to USPA statistics, approximately half a million people in the United States each year alone leap and try skydiving for the first time. On average, these first-time jump students and experienced skydivers make about three million jumps annually!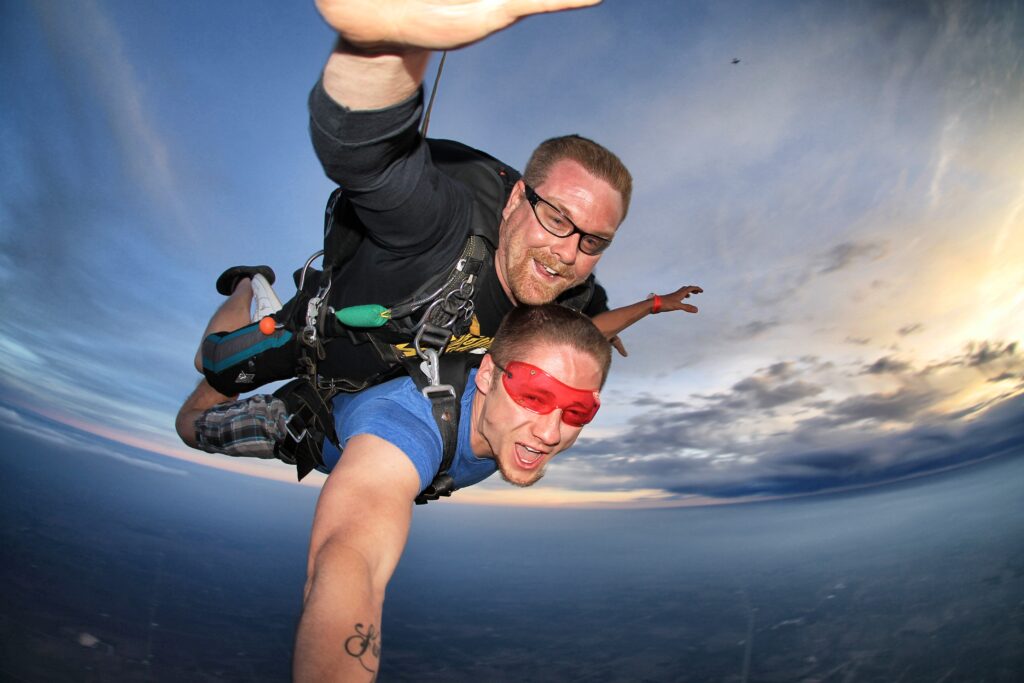 Gateway Skydiving Center
Skydiving is a labour of love and in 2012 Gateway Skydiving Center was born. Completing thousands and tandem skydives and graduating numerous skydiving licensed skydivers and skydiving instructors with an outstanding safety record that we are proud of. We encourage you to come and check us out and live your life to the fullest.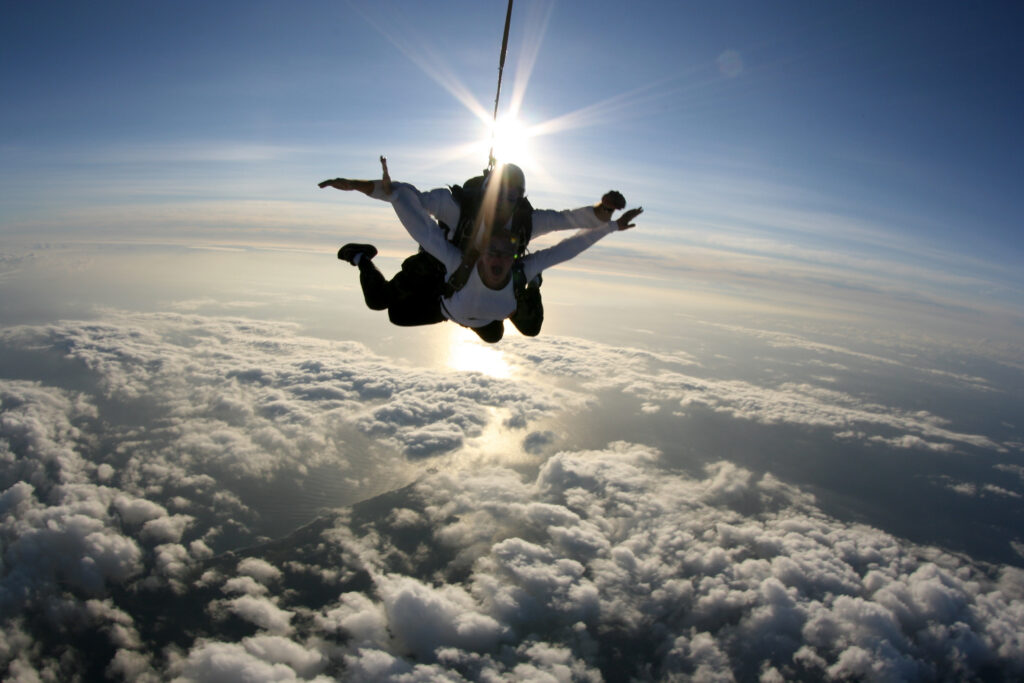 History of Gateway Skydiving Center
Skydiving is our blood. It all started in 1969. Exposure to airplanes skydiving and life growing up around airports is hard to explain to someone that has never been in that type of an environment.
While skydiving is considering extreme sport it is actually a very peaceful experience and most of our skydiving students would say it is not what we expected or it how we imagined it.
Most will say it's not even all that scary. We understand skydiving is not for everyone we also have family makers that don't skydive to each his own. Those who do try a tandem skydive we would say 99% are absolutely blown away by the experience.
Skydiving is labor of love for instructors Its hard to get that type of connection with your students in anything that you Coach or instruct. Traveling the world as Instructor we noticed at many skydiving centers wore losing that connection.
Some Skydiving centres had multiple locations where owners can't be there to greet students some are so big commercialized that you become a number. Read more here.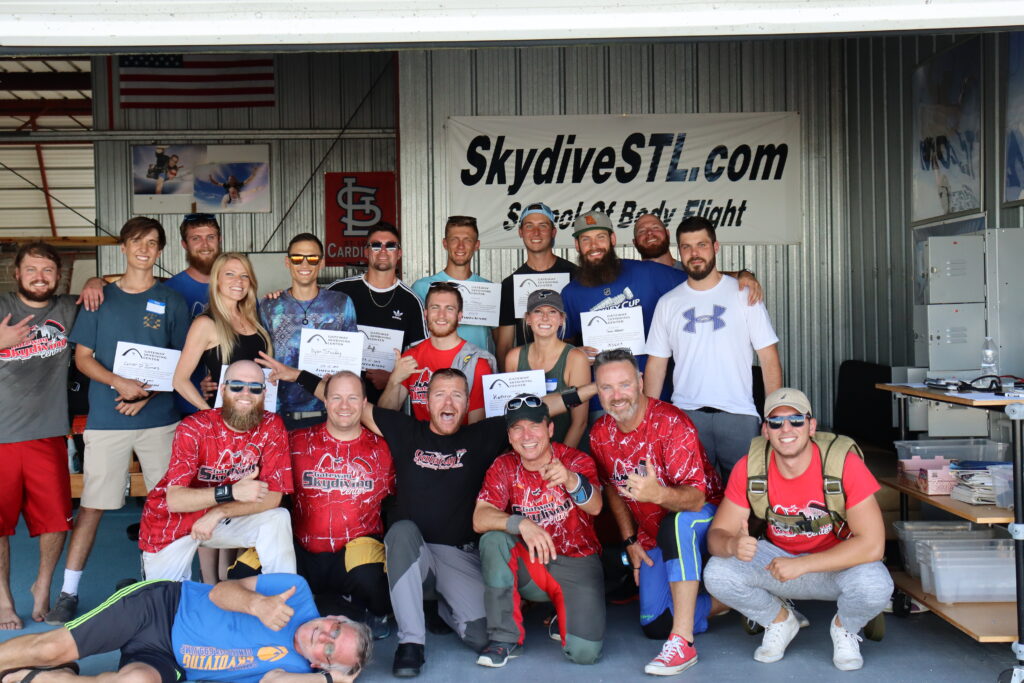 Our Missions
At Gateway Skydiving Center our mission is to create a fun and friendly environment for our first time and experienced jumpers alike while putting safety first. We know that your first jump can be intimidating, we understand, we all started with skydive number one just like you! Our staff is very passionate and knowledgeable about what they do and will make sure that you have an unforgettable experience.
Skydiving prices are different and they are depending on what service you want.
If you are interested in more information see our pricing.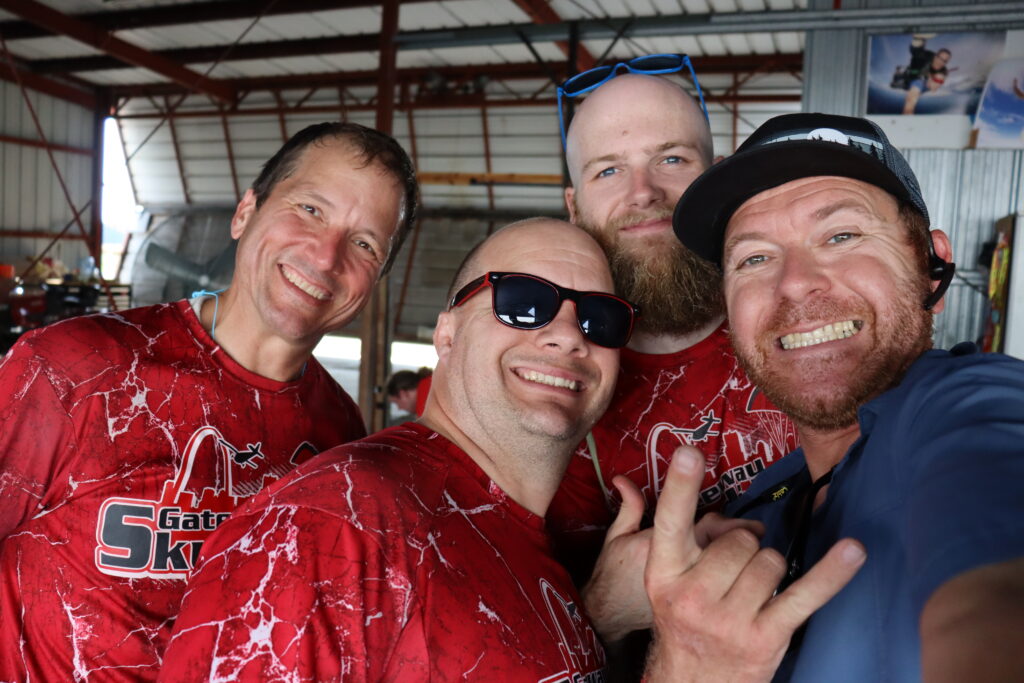 A new season is about to begin! Don't miss the super discount coupon and save $ 40.
Professional Tips For Skydiving
1. Be mentally prepared for skydiving
A lot of people get scared at the thought of skydiving. However, everyone who tries it for the first time is delighted with skydiving and applies for a certification program to try it themselves.
You need to be aware that before the jump, you are fully equipped. The equipment is good, specially designed for it. Around you is a team of experienced instructors who will look after you. So it's up to you to relax, follow the instructions given to you by the instructors and let yourself enjoy the jump.
2. Dress Appropriately
Skydiving isn't a fashion contest. ​You will be most comfortable in loose fitting, seasonally appropriate clothes. On cooler days, you might want to opt for jeans or sweatpants and a long sleeve shirt. No skirts or dresses.
​Tennis shoes will work best. No boots, flip flops, sandals or high heel shoes.
3. First Jump
Your first jump must be a tandem skydive. An experienced instructor must be with you to guide you on this exciting adventure.
4. Watch Out For Food
Eat normally and moderately before the jump. It is advisable to drink some smoothies or some nutritious, easily digestible foods. You do not need to jump with an empty stomach, but not with a full stomach. If your stomach is empty, your blood sugar will decrease and nausea may occur. If too full, your blood will swirl around your stomach trying to process those foods, which can also be a problem.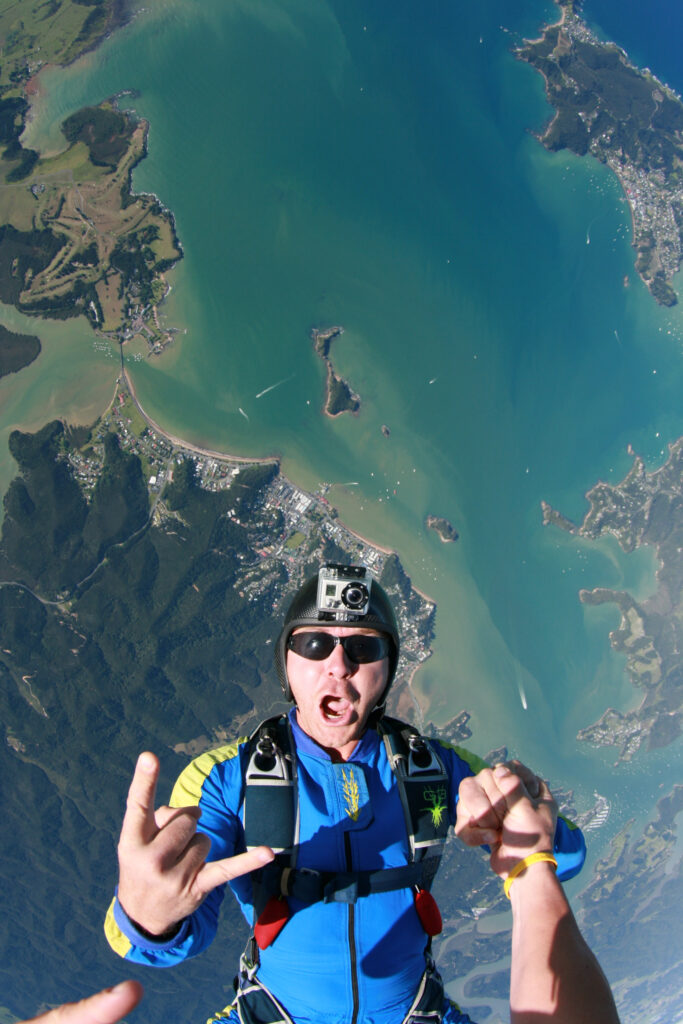 The Chances Of Injury Are Extremely Small
We will mention statistics where out of 4.2 million jumps, 21 were fatal. That's 0.005 deaths per 1,000 jumps, and the tandem death rate is even lower. Also, each jumper has two parachutes. If the first one doesn't work, there is a backup and the parachutes go through a lot of training to learn how to handle emergency procedures. Most accidents are the result of human error, and not necessarily equipment failure.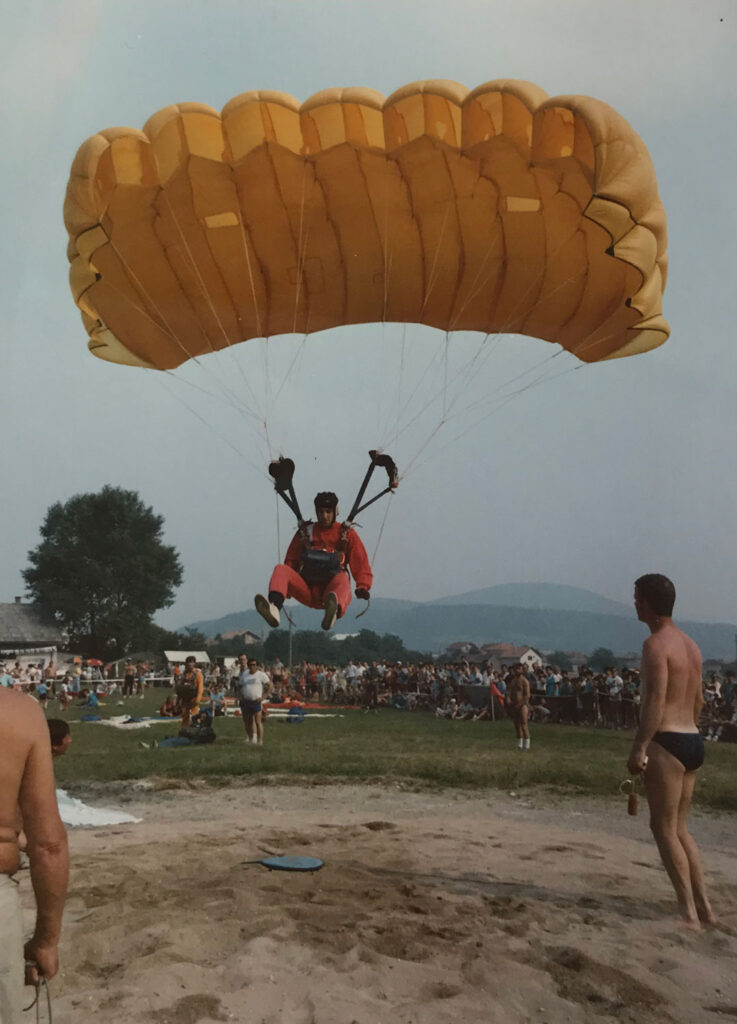 What do you need to know before the first jump?
1. Age Limit
You must be 18 or older to skydive.
2. Weight Limit
Our weight limit is 230 lbs, and you must fit in your harness properly!
3. Weather
Clouds and winds can be a factor but summer skydiving season around St. Louis is pretty consistent. Our staff will be there every weekend regardless of the weather. The best thing to do is call ahead and confirm that we are jumping before you leave your house.
4. Alcohol consumption
Do not consume alcohol before your jump. To speak to you for your good and your safety. If there is the odour of alcohol present we will keep your deposit and you will not go for a skydive!
5. Who Are You Jumping With On Your First Jump
You will jump with a USPA Certified instructor with years of skydiving experience. One of the requirements for becoming a tandem instructor is 500 jumps, but all of our tandem instructors have between 1,500 to 7,000 skydives.
6. Additional Useful Features
Tandem skydive takes about 30 minutes of training, but it can take up to 4 hours depending on weather and other unforeseen factors. First-time solo students, please plan to spend the entire day with us.
It should be noted that flying in the air is not a roller coaster, you need to listen to the instructor's instructions. You can bring a camera, take photos during the summer, etc.
Skydiving is not a physically demanding sport, but you do need to be in good health! For our solo students, you need to have enough upper body strength to pull all the necessary handles and steer the parachute!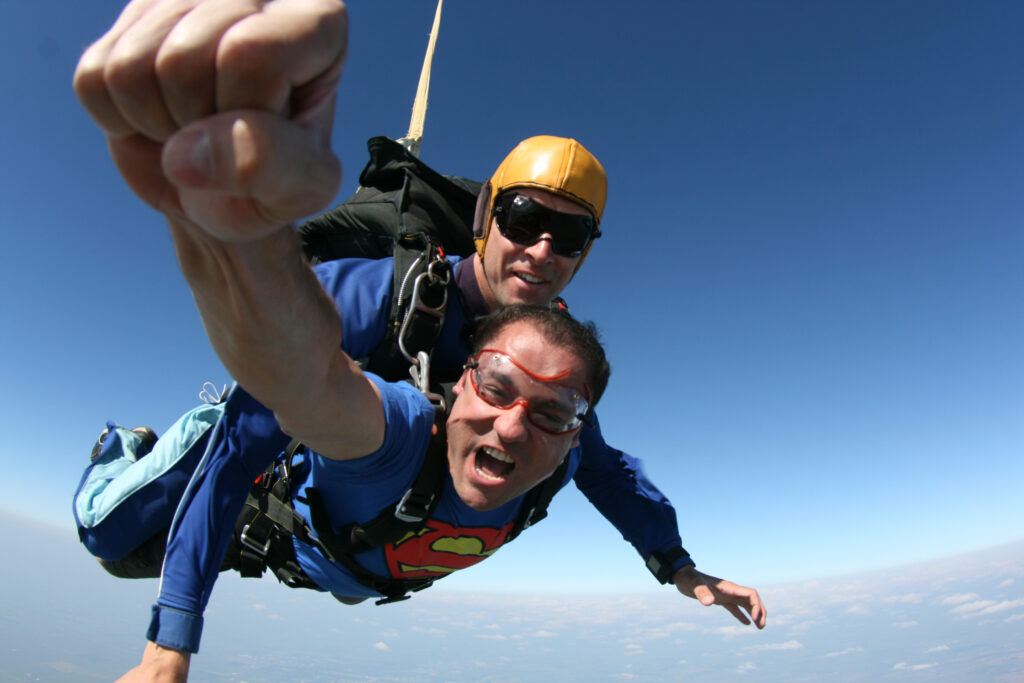 Impressions Of People Who Have Tried Skydiving in Gateway Skydiving Center
"My husband and I did our tandem skydive on Saturday. Thank you for being a great instructor and you made the skydive experience FANTASTIC!" said, Judy
"I just wanted to thank you for such a great experience. I jumped for my first time yesterday with you and Nathan and you guys made it so great. It's clear you're very passionate about this and that quality made it so much fun!" said John
"I just wanted to say thank you. I was so scared going up in the plane and the funny thing was as I was falling it wasn't all that scary. It took a day for my hearing to come back, and every day since, I leave school thinking I could jump again today. " said Suzie